"God Defend New Zealand" (National Anthem)

The New Zealand Symphony Orchestra kindly recorded a performance of the National Anthem especially for New Zealand on the Web. Click the image at the start of the paragraph to hear it.

We would like to express our extreme gratitude to those who made it possible:
Kenneth Young Conductor in Residence of the NZSO.
Michael Fine - Grammy-winning record producer from Koch International Records.
Sam Negri - Recording engineer
Dale Gold - Principal Double Bassist for the NZSO, and the prime motivator in making this recording possible.
and especially ... The Players of the NZSO - who donated their services at the end of an extremely difficult and tiring recording session.
---
Note: Though God Defend New Zealand is our most commonly used New Zealand national anthem, many do not know that God Save the Queen is the official alternative. While patriotic, this particular tune spurs not in a New Zealander what God Defend New Zealand does, sung proudly at any sports event.
---
God Defend New Zealand

Words by Thomas Bracken, music by John J. Woods
Music for the first verse follows.
English Lyrics
Maori Lyrics
Maori Lyrics Translated

God of nations! at Thy feet
In the bonds of love we meet,
Hear our voices, we entreat,
God defend our Free Land.
Guard Pacific's triple star,
From the shafts of strife and war,
Make her praises heard afar,
God defend New Zealand

E Ihowa Atua,
O nga iwi matou ra
Ata whakarongona;
Me aroha noa
Kia hua ko te pai;
Kia tau to atawhai;
Manaakitia mai
Aotearoa

O Lord, God,
Of all people
Listen to us,
Cherish us
May good flourish,
May your blessings flow
Defend Aotearoa

Men of ev'ry creed and race
Gather here before Thy face,
Asking Thee to bless this place,
God defend our Free Land.
From dissension, envy, hate,
And corruption guard our State,
Make our country good and great,
God defend New Zealand.

Ona mano tangata
Kiri whero, kiri ma,
Iwi Maori Pakeha,
Repeke katoa,
Nei ka tono ko nga he
Mau e whakaahu ke,
Kia ora marire
Aotearoa

Let all people,
Red skin, white skin
Mäori, Päkehä
Gather before you
May all our wrongs, we pray,
Be forgiven
So that we might say long live
Aotearoa

Peace, not war, shall be our boast,
But, should foes assail our coast,
Make us then a mighty host,
God defend our Free Land.
Lord of battles in thy might,
Put our enemies to flight,
Let our cause be just and right,
God defend New Zealand.

Tona mana kia tü!
Tona kaha kia ü;
Tona rongo hei pakü
Ki te ao katoa
Aua rawa nga whawhai
Nga tutü a tata mai;
Kia tupu nui ai
Aotearoa

May it be forever prestigious,
May it go from strength to strength,
May its fam spread far and wide,
Let not strife
Nor dissention ensue,
May it ever be great
Aotearoa

Let our love for Thee increase,
May Thy blessings never cease,
Give us plenty, give us peace,
God defend our Free Land.
From dishonour and from shame
Guard our country's spotless name
Crown her with immortal fame,
God defend New Zealand.

Waiho tona takiwa
Ko te ao marama;
Kia whiti tona ra
Taiawhio noa.
Ko te hae me te ngangau
Meinga kia kore kau;
Waiho i te rongo mau
Aotearoa

Let its territory
Be ever enlightened
Throughout the land
Let envy and dissension
Be dispelled,
Let peace reign
Over Aotearoa

May our mountains ever be
Freedom's ramparts on the sea,
Make us faithful unto Thee,
God defend our Free Land.
Guide her in the nations' van,
Preaching love and truth to man,
Working out Thy Glorious plan,
God defend New Zealand.

Tona pai me toitü
Tika rawa, ponu pü;
Tona noho, tana tü;
Iwi no Ihowa.
Kaua mona whakama;
Kia hau te ingoa;
Kia tü hei tauira;
Aotearoa

Let its good features endure,
Let righteousness and honesty prevail
Among the people of God
Let it never be ashamed,
But rather, let its name be known
Thereby becoming the model to emulate
Aotearoa
---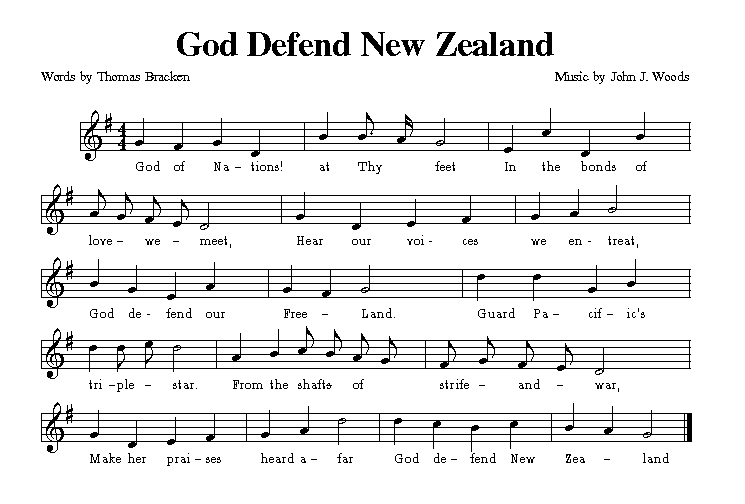 Dale Gold contributed this image.
---
New Zealand Guide Book Quick Links
Facts, Weather, Language, Food, Music, History, Hitchhicker's Guide, Natural History
Marina Apartment 404
- Apartment.
Located in Queenstown, 1.7 km from Queenstown Event Centre and 6 km from Skyline Gondola and Luge, Marina Apartment 404...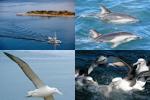 Wildlife Cruise from Wellers Rock - 1 hour
- Wildlife - Otago Peninsula.
Starting from NZ $49.00 per person
- Taiaroa Head.
Experience unrivalled viewing of the exciting and diverse wildlife that makes its home on Otago Peninsula's spectacular...