The Physical Environment of New Zealand / Aotearoa
Geography, Natural History, Environment...
---
New Zealand Guide Book Quick Links
Facts, Weather, Language, Food, Music, History, Hitchhicker's Guide, Natural History
Grand Hotel - Whangarei
- Hotel.
Boasting a restaurant, bar, casino and free WiFi, Grand Hotel - Whangarei is situated in Whangarei, 1.4 km from...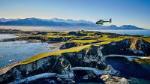 Heli-Whale Watch Explorer
- Dolphin & Whale Watching - Kaikoura.
Starting from $350.00 per person
.
Come experience views like no other, where the ocean meets the sea; see the beauty of Kaikoura and the incredible sperm...