New Zealand Weather Information
We're not called downunder without reason! Our coldest month is July, and our warmest is in January; our seasons opposite to those in the Northern Hemisphere. The climate is fairly mild, without the extremes experienced in many other countries. In fact, New Zealand doesn't tend to have temperatures over 35°C (100°F) or under -5°C (14°F). The South Island has a temperate climate, while the North Island ranges from temperate in the south to sub tropic further up the island.
New Zealand is well known for its ability to have 'Four Seasons in One Day', especially in the South Island, with winds coming from the south bringing cold fronts and rain, and from the north west, sweeping over the Canterbury Plains bringing pleasant warm winds, rumoured to give headaches, and to sometimes make people act strangely… Breezes from the tropics herald warm and heavy rainfall for the North Island.
Sun is most common during the months of January and February, but be prepared for a quick change in weather, patchy tropical showers are common in the north Island, and southerly changes can creep up very quickly over the south. The autumn (fall) and winter seasons are over March through to August, and the weather is more changeable than many other countries, the dark cloud and heavy rainfall contrasted often by highs over the country, bringing crisp, fresh frosts in the morning and clear blue skies.
Snow only really occurs in the mountains, mainly in the Southern Alps in the South Island, and those in the mid North Island, although it snows a little in the east of the south Island mid winter. Contradictory to global warming, the East Coast of the South Island has been facing regular mid winter snow falls for the past 5 or so years, with 2006's storm in June bringing over 30cm of snow to some parts of Canterbury.
Average Temperatures (Main Centers)
NORTH
ISLAND
Summer (Dec-Feb)
Winter (Jun-Aug)
High
Low
High
Low
°C
°F
°C
°F
°C
°F
°C
°F
Auckland
21
72
15
61
14
57
8
46
Rotorua
23
73
11
51
12
54
2
36
Napier
23
74
13
56
14
57
5
41
Wellington
19
66
14
57
11
52
7
45
SOUTH
ISLAND
Summer (Dec-Feb)
Winter (Jun-Aug)
High
Low
High
Low
°C
°F
°C
°F
°C
°F
°C
°F
Nelson
23
73
12
53
13
55
3
38
Christchurch
21
69
12
53
11
51
3
37
Queenstown
21
70
10
49
9
48
1
33
Dunedin
19
66
10
49
10
49
3
38
Westport
19
66
12
53
13
56
5
41
What do I wear?
One of the most common questions asked before planning a trip is, naturally, "what should I bring to wear?" We've put together this small guide to help your planning:
Summer (Dec-Feb)
Autumn (Mar-May)
Winter (Jun-Aug)
Spring (Sep-Nov)
Auckland
Mainly sun, patches of tropical rain. Bring sunscreen, beachwear, insect repellant, light cover
Bring a rain jacket, at least one warm jersey, varied between mild and cool temperature
Lots of warm clothing and bring rainwear
A little more warm weather, but bring rainwear and an umbrella
Wellington
Sunscreen, hat, light clothes
Rainwear, light jersey, light coat
Rainwear, warm coat, gloves, warm jerseys
Bring rainwear and a jacket. Don't even contemplate bringing an umbrella, the Wellington winds will eat it!
Christchurch
Generally sunny here. Bring light clothes, sunscreen, and a light raincoat just in case. Showers aren't uncommon in Dec
Cold Autumn here, bring warm jerseys and a heavy jacket
Be prepared for frosty mornings with sunny afternoons or heavy rain. Bring a thick coat, gloves and hat
Seemingly random mixes of sun and rain. Bring warm jerseys and an umbrella, but also lighter clothing to wear in the sun
Queenstown
Wanaka
Beautiful in Summer, bring light clothes and sunscreen but be prepared for light showers
Getting steadily colder, bring warm jerseys and a rain coat
Its ski season! So bring a coat, hat and gloves. Weather varies between snow, rain, and crisp, clear skies
Still a little snow around, bring lots of warm clothing and rainwear
---
New Zealand Guide Book Quick Links
Facts, Weather, Language, Food, Music, History, Hitchhicker's Guide, Natural History
Serviced 1 Bedroom House - 22A Pererika St
- Apartment.
Serviced 1 Bedroom House - 22A Pererika St in Rotorua provides accommodation with free WiFi, 700 metres from Polynesian...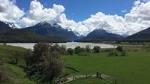 Lord of the Rings Full day tour - Queenstown, New Zealand
- Day Tour - Queenstown.
Starting from $299.00 per person
.
Our full one day 'Into the Vale of Wizards' Lord of the Rings location tour visiting Glenorchy and Paradise. See...