Language in New Zealand
Though the main language spoken in New Zealand is currently English, it was not always so. Before European colonisation of New Zealand, the Maori people were the only in habitants of the islands.
---
New Zealand Guide Book Quick Links
Facts, Weather, Language, Food, Music, History, Hitchhicker's Guide, Natural History
Eco Black Hut
- Villa.
In the heart of Christchurch, set within a short distance of Christchurch Art Gallery and Victoria Street, Eco Black...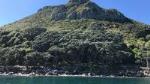 Mauao Guided Hikoi (Walk)
- Ports of Call Tour - Tauranga.
Starting from $69.00 per person
.
Mt Maunganui boasts a well-loved mountain, named Mauao, seeped in history and culture. Join us in a walk...