Language in New Zealand
Though the main language spoken in New Zealand is currently English, it was not always so. Before European colonisation of New Zealand, the Maori people were the only in habitants of the islands.
---
New Zealand Guide Book Quick Links
Facts, Weather, Language, Food, Music, History, Hitchhicker's Guide, Natural History
*BRAND NEW* Contemporary 1 bdrm - Prime location!
- Apartment.
Situated in Auckland, 2.3 km from Masefield Beach, 2.7 km from Sentinel Beach and 2.8 km from Home Bay Beach, *BRAND...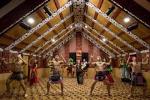 Evening Maori Cultural Performance and Geyser Experience from Rotorua
- Maori - Rotorua.
Starting from $128.00 per person
.
You and your small group can enjoy Te Pō, an indigenous evening experience, operating daily from 6pm to 9pm. The night...