New Zealand History
It is estimated the Maori inhabited New Zealand around 800AD. Around eight hundred years later the Western world discovered New Zealand. In 1642, in a bid to locate the mysterious, rich land Australia, the Dutch Explorer, Abel Tasman caught sight of the West Coast of the South Island.
The First European to set foot on New Zealand soil was Captain James Cook of England, in 1769. He also made the first, but inaccurate map of the country.
Settlers from England started to arrive in the 1830's, and by 1840 a Treaty was signed between the crown and the chiefs of the Maori tribes. The Treaty of Waitangi handed sovereignty of New Zealand to the Crown, and is a matter of dispute even today, as the Maori translation is not quite the same as the English.
One hundred and seven years later, in 1947 New Zealand declared independence, and became its own country, after Britain did not let New Zealand troops return to defend their home against the possibility of Japanese invasion in the Second World War.
Though all New Zealanders became New Zealand citizens, until 1977 they were still British subjects. In 1983, New Zealand was declared "The Realm of New Zealand", and in 1986 the Constitution Act removed all power from the United Kingdom to legislate for New Zealand when it was requested.
Today, Queen Elizabeth holds the title of Queen of New Zealand, and is represented by the Honourable Anand Satyanand, our Governor General. New Zealand remains part of the Commonwealth, but as an independent country.
Other Important Dates
1893 - First country to grant women the right to vote
1903 - Richard Pearse flew a home constructed aircraft. It's debatable whether he flew before the Wright brothers or not.
1953 - Explorer Sir Edmund Hillary with Tenzing Norgay reached Mt. Everest's summit
Rapaura Watergardens
- Bed and Breakfast.
Situated amongst beautiful landscaped gardens, Rapaura Watergardens features a seasonal restaurant which serves both...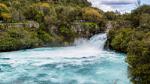 Huka Falls Return or one way from Rotorua
- Maori - Rotorua.
Starting from $50.00 per person
.
Visit the most visited natural attraction in New Zealand on this half day afternoon tour perfect for those with a tight...